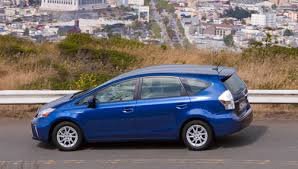 Dear Donald McClure,
I write to discuss my recent experience with McClure Toyota. My wife and I are both originally from southern New Brunswick but currently live in northern Ontario, and in late May of this year we began searching for a vehicle to buy. We eventually settled on a 2012 Prius V and began hunting for one. Eventually, we found one at your dealership.
Originally, I had emailed Jake Dubé about another used car that your dealership had sold but was for resale by a dealer in Moncton. Jake offered the information, but also informed me about a similar car that he had for sale but wasn't yet up on the website. It was soon clear that this was a great car, in great condition, and we began narrowing in on this option.
As we would be buying the car sight unseen, we had lots of questions and Jake was very quick to answer them – sometimes even replying on the weekends. He was also extremely honest about the condition of the car, and sent additional pictures as I requested them. He is a fantastic salesman.
Mélanie Toner saw to the financial side of things, and she was also very helpful and provided a lot of information so that we could make our decision. Ours was, of course, a complicated transaction as we weren't able to come into the dealership and we were having the car shipped to Thunder Bay. But between calls, emails, and faxes, Mélanie ensured that the paperwork went smoothly.
There were some hiccups with the shipping, related to the tight timeline we were on. But in the end, the car arrived on the day we needed it to, only a bit later than we would have liked. But this was the first time we had seen the car in person, and we were happy to find that it was in great condition, just as Jake had described it.
In early August, I took the car to your dealership for its first oil change and service. André Ouellette was my service adviser that day, and he was very friendly and helpful. Once the car was ready, I was shocked and delighted to hear that the oil change was complimentary.
All that to say, I have had a wonderful experience with your dealership, and thought you ought to know about the fantastic job that your staff is doing. Every person that we interacted with throughout all the stages of the buying and service processes (Jake, Mélanie, and André) was helpful, friendly, and put to shame the poor service we received from other dealers that we contacted about used vehicles. My wife and I are both very pleased with our decision to purchase this vehicle from your dealership, and we have told our friends and family about the excellent experience we have had. It has been so refreshing to buy from a business that is run in the good old-fashioned way: by putting customers first. Thank you.
Yours sincerely,
Daniel Meister